Why should I use video for the internal communication of my company ?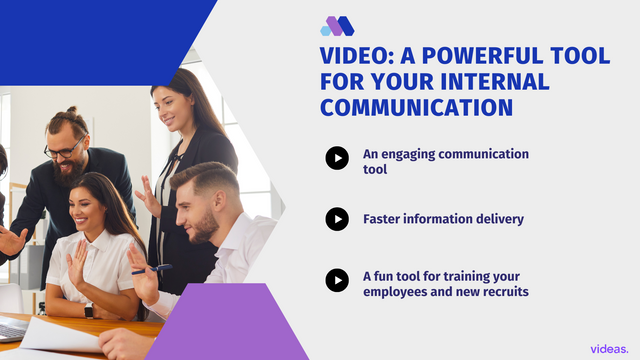 Communication with your collaborators is fundamental in a company. This is what we call internal communication. By using video, you will have more facility to rapidly pass information to your collaborators, and thus interacting with them. In fact, more and more companies use video, because according to Social Shepherd, 82% of the internet's global traffic comes from video in 2022(1). Another reason to use it for your company.
In this article, we will detail the entirety of its advantages.
What are the advantages of video for companies ?
Video offers several options for companies. We have created a list of its advantages.
1. Enhancing internal communication
Internal communication for your company is important.
To begin with, it is efficient for your collaborators, because it allows them to interact with each other. In fact, video is an engaging tool. Therefore, you can engage your employees thanks to video. For instance, your audience can leave comments and "likes" on a video, which enables your employees to not only interact with them, but also with you.
Furthermore, it gives you the possibility to strengthen teamwork. Videos enable you to make your employees working on the same project. For example, you can broadcast and share a video that deals with a collective task, so that your collaborators can work in pairs.
To end up with, video enables you to increase your employees' productivity. By sharing videos with them, it will enable them to boost up their feeling of belonging in your company, and thus to be motivated to improve their productivity at work.
2. A quicker dissemination of information
Nowadays, video is very appreciated, especially in the workplace. Video is a very original and engaging tool. There is no doubt that video enables a quicker spread of a message than a mail. For instance, according to MaTvImmo, "a visitor spends 88% + time on a site suggesting video"(2).
What's more, you have more chances that your employees watch your video than your mail. For example, according to Biteable, 65% of emails are ignored in companies(3).
Thus, we advise you to use video to easily and efficiently broadcast the information that you want to disseminate to your employees.
3. A performant broadcasting tool
Video is a short, efficient and performant format. In fact, it is highly appreciated by the employees of a company. To give you an idea, according to Biteable, 75% of employees prefer to watch a video rather than reading a text or an email(4).
What's more, it enables you to relay important information : for instance, "video event" is a video that enables you to promote an event in your company".
4. Video is a good tool to form your collaborators
Video is also a good way to give training to your collaborators. We recommend you to broadcast your videos on an internal Web TV. Your videos will only be dedicated to a private public, such as collaborators. Each employee will have access to a rerun of your videos.
For more information on the features of an internal web tv, click here
5. A fundamental tool for your new employees
Your new employee has just joined your company and you want to train this person quicker, and above all with easy support to use !
No need to spend hours writing long explanation paragraphs. In fact, onboarding video enables your new employee to learn and to improve independently.
What's more, video is watchable on all types of services supported. (computer, mobile phone or tablet), and it is available at any time by your new employee.
To conclude, video is a communication tool both performant and attractive. It enables bettering internal communication with your collaborators. It is also a communication tool that enables relaying information in a entertaining and simple way. Video is a time saving, if you do not want to spend hours writing a long email.
Sources :
---
August 19, 2022 by Safia Azzi
host company's video
video platform B2B
internal communication