How to create a Web TV for my company ?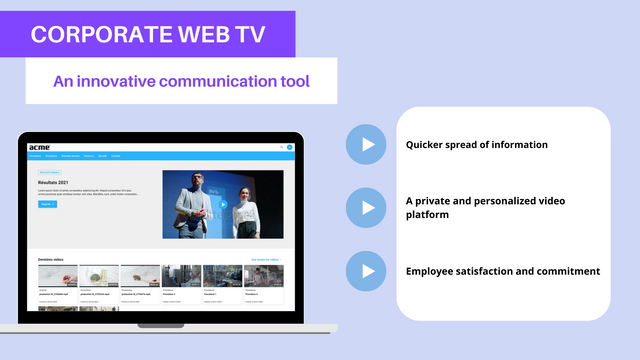 Many are the companies that want to improve their internal and external communication.
Have you ever thought about a Web TV ? To put it in simple terms, this is an online Web TV that enables you to broadcast and to share your videos for your audience.
It is important to know that there exists two types of Web TV : Internal and external.
An internal Web TV is entirely dedicated to a restricted public (your collaborators or your business partners), whereas an external Web TV is designed for a wider audience, such as your prospects or customers.
Broadcasting videos on an online video platform is a good tool to increase your company's notoriety. In fact, according to a study from Emarketer, in 2022 there will be a 3,6% increase in digital audience (1). Therefore, creating videos is the new trend to adopt for your company, but to broadcast them on a Web TV is even more beneficial !
In this article, you will find the entirety of the information that you need to create your corporate Web TV.
An external Web TV : The best way to amplify its visibility on the internet
A Web TV enables companies to better their external communication, and to stand out when it comes to your rivals.
Communicate easier with your customer
Imagine an online Web TV like a relational marketing tool. It will enable you to create a communication exchange with your prospects in an entertaining and attractive way.
Customers always put first a company that regularly creates original digital content, whereas a company that only designs a website without any interaction. In fact, the video is an attractive format to pass on information to your prospects. To give you an example, according to MaTvImmo, a visitor stays at least 88% more time on a site that suggests video (2). This is another reason to broadcast even more videos on your Web TV.
For instance, you can broadcast tutorial videos on your online video platform to enable your customers to get to know your new products, and so to promote them.
Make your business stand out from your concurrency
Have you always dreamt of having your own online video site entirely customizable to your tastes ?
With a Web TV, you can put forward your creativity ! You can adapt it to the image of your brand, and benefit from an HTML5 video player in white label, without any ads. Ideal to avoid advertisements from your rivals, while the playback of your video is processing.
A Web TV will enable you to enhance your ranking on browsers. Videos are a great way to upgrade your referencing, and so to attract new customers to your website.
Internal Web TV : an efficient tool to better your corporate
A corporate video platform dedicated to a restricted audience, and so accessible through a system of authentication, it enables you to increase your learning strategy for your company. Your communication will be enhanced as well as the productivity of your employees.
Enhance internal communication in your company
An internal Web TV will enable you to strengthen teamwork cohesion. To give you an example, a private video hosting platform suggests you pool the entirety of your videos. It is a good way to gather your collaborators around your Web TV.
Specialized video platforms give you the opportunity to add comments, and "likes" on videos, such as on Videas' platform. It is an ideal solution, so that your collaborators interact by submitting comments, and by reacting to the video they've liked the most.
Mobilize and make your teams worthy through video
Information is rapidly broadcasted through video. To give you an example, according to a study by Biteable, people memorize 95% of a message that appears in a video, whereas only 10% keep information in mind through a text (3). Thus, video is an original communication strategy to inform your collaborators on precise information. On your online video channel, you have the opportunity to make your video more educational, and entertaining. It is especially dedicated to your collaborators.
What's more, your employee's emotions are important. To do so, a Web TV is only accessible for your collaborators, and it will enable you to create a belonging feeling in your company.
Thereafter, they will be motivated to boost up their individual performance, and thus to increase the productivity of your company.
What are the steps to create your Web TV ?
Establish your creative project
To do so, you need to start by establishing your goals. You have to precisely detail the reasons why you have decided to create a video platform for your company.

Define your target. To help you out, here are some questions-answers :
Would you rather prefer sharing your video with an internal audience, such as collaborators ? In this case, you should opt for an Internal Web TV.

Would you like to promote a product ? Retaining new customers ? Attracting new prospects ? An external Web TV is the ideal solution.
The broadcasting mode of your videos is also important. Is it some confidential content that you want to share ? In this case, an internal video platform with authentication will be the solution. On the contrary, if you want that videos will be seen by a wider number of people, then external Web TV will be suitable to your needs.

The price of a Web TV is based on the number of videos that you want to host, and the number of people that will have access to it. This is the reason why we advise you to think about these settings to have an idea about the necessary budget.

In order for your audience to constantly watch your videos, you have to set up a calendar in order to determine the frequency of your videos, for instance which hours you are going to post them.
Choose the material
To create high quality videos, the choice of your material is essential. We advise you to have a lapel microphone, and a camera, in order to create video interviews from your collaborators or video presentations of your company. A mobile phone can work as well ! It all depends on the final result that you want.
Select your private video hosting platform
Whereas it is dedicated to your clients or collaborators, it is essential to build its Web TV on a private video hosting platform for several reasons :
You have the possibility to put forward the image of your brand, by adding your logo on your HTML5 video player or even put it in line with the charter graphic of your company with your online TV channel. This feature is available on our platform.

You can classify your videos by modules, so that your customers or collaborators can easily find your videos.

The Web TV is responsive. In other words, your videos are perfectly suitable for all kinds of devices. Users can watch your videos on a mobile phone, a computer or a tablet.

Your videos and shared links are protected through a password system. It is efficient if you would like to share certain contents with a specific team.

What's more ? Your URL is customizable. You can change it.
To conclude, a Web TV has a main goal : To broadcast online your video content. An online TV channel can be used to enhance both internal communication and external communication.
At Videas, we help you with the creation of your video platform.
To get to know more about the features of an internal Web TV for your collaborators, we invite you to read our article
Sources :
Lebow. (2021, September 22). Over 3 billion people worldwide are now digital video viewers. Emarketer. https://www.emarketer.com/content/over-3-billion-people-worldwide-now-digital-video-viewers

MaTVimmo. (2019, August 8). Créer sa propre web tv. https://www.matvimmo.com/creer-sa-propre-webtv/

Building a powerful business case for video marketing. (2020, July 8). Biteable. https://biteable.com/blog/building-a-business-case-video-marketing/
---
July 8, 2022 by Safia Azzi
corporate web tv
online video platform
internal communication