What is a VOD platform ?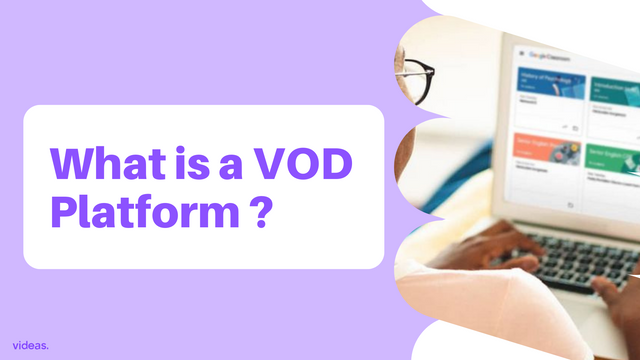 VOD means "Video on demand". That is to say that web users have the possibility to watch videos at any time, and wherever they want.
VOD platforms are appreciated by web users. In fact, a study from Statista demonstrates that 20% of worldwide web users use video on demand services in 2022(1).
Today, VOD isn't only an entertaining platform such as Netflix, Disney +, and Amazon Prime.
Nowadays, small, middle, and large companies are part of video on demand to communicate with their customers. In fact, VOD platforms are a good way for companies to enhance their communication with the broadcast of promotional videos, introducing videos, informative videos, training videos etc…
When it comes to content creators or video content, it will enable them to sell their videos. For instance, if you have a YouTube channel, you can also create a VOD platform to generate a complementary salary. The same method is for trainers and coaches that want to sell their training videos online.
To sum up, a VOD platform enables you to host, to handle, to monetize and to broadcast your video content on the internet.
What's the difference between VOD and live streaming ?
Most of the time, we have the tendency to confuse VOD and live streaming. This is the reason why we have established a list of their differences :
Users can access to pre-recorded video content, and they can also access to it whenever they want, and from their connected device (computer, tablet, mobile phone).
Web users have the possibility to download videos on their VOD platform. If you like a video in particular, and you wish to save it on your mobile phone, tablet or computer, this can be a good way to keep it at a limited time, and to watch it again whenever you want.

Rerun is available. We all know that watching videos on reruns is an advantage. For instance, if we have missed an episode from our favorite series, we want to watch it again or even just to watch it for entertainment purposes.
This is a broadcasting method that enables viewers to watch your video on live streaming.
It is ideal for the launch of your online product or seminar that you want to organize for your public.

Web users have the impression to virtually assist to an event, in that case webinars that are broadcasted online.

Compared to a VOD platform, your viewers won't be able to download your video, but only to watch it while your video is on live streaming.
An integrated monetization system
1. A quick and easy online paying system for your customers
VOD platform has different online paying methods just as on any other E-commerce website, such as (CB, Apple Pay, Bancontact, Google Pay…), so that your customers can quickly and easily pay.
Videas is in collaboration with Stripe, which enables your users to pay online their purchases with simplicity.
You can track purchases made by users, and obtain analyzed details about your customers' behaviors on your VOD site.
Web users have got an interface to manage their subscriptions and their renewed purchases made on the platform, etc…
2. Different ways to sell your videos
On our platform, you have the opportunity to choose different types of monetization : Subscription/ Purchasing/ Renting.
Subscription : You have the possibility to establish an on-demand streaming service such as Netflix, while creating specific subscriptions for your subscribers. For instance, 10€/month to access all or to one part of videos.
It is possible to create several subscriptions : a yearly or monthly subscription, or even subscriptions that give access to different content.
Subscription is automatically redirected to users that subscribe to it.
Selling : It is a "one-shot" paying subscription. The user will buy a video or a bunch of videos with the price that you would have established. Therefore, the user will have unlimited access to this video, and will be able to download it if you authorize it.
Renting : You can give access to a video for a limited time. For example, the user will be able to watch the video for about 48h for 5€. After this deadline, video will no longer be available by this user.
What are the advantages of a VOD platform ?
A VOD platform has many advantages.
1. You can custom it to the image of your brand
Your customers won't be lost, and they will be able to have access to a site perfectly suitable with your brand. We personalize your VOD platform according to your needs : logo, colors, texts, visuals, etc…
The address of your VOD site is also customizable. We host your video platform on videos.monsite.com.
Thus, Videas is transparent for your users.
2. All of your videos gathered in an online video library
Your videos are gathered in a video library.
Videas offers you an all-in-one platform to manage your videos, and to broadcast them on your VOD platform.
You can keep old videos that you do not wish to broadcast on your VOD site in a video library.
All of your audio productions will be saved in a same and unique secured place, and you will access to it everywhere at any time.
If you want to get to know more about the benefits of a video library, click here
3. Manage your VOD platform
Thanks to the back office, you can manually manage how to publish and display your videos by creating categories, choosing the hour and the date of your videos' broadcasting etc…
What's more, your users will have the possibility to have a total secure access thanks to a user account.
For more security and privacy, only the users having created an account will be able to access your video platform. Each user will have a login and a password that will enable the user to access the videos that this person has the right to watch.
For instance, they can login to their account thanks to a username and a password of their choice.
4. Analyze your traffic
A dashboard gives you a global view on the performance of your videos and on each of your users. In fact, you can track what the user watched, how many times your client spent on your platform etc…
To conclude, a VOD platform is a solution that enables you to broadcast your videos online. You have the possibility to sell your videos thanks to an integrated paying system.
The VOD platform is totally personalized in accordance with your needs.
The broadcast of your videos for a targeted public is suitable for small, medium and large companies.
What's more, if you are looking for a complementary salary (especially dedicated to face-to-face classes, content creators on social media…), we advise you to opt for this type of platform.
Sources :
Jack Shepherd. "Video on Demand (VOD)丨Definition, History and Benefits", vidizmo.com , 26 mai 2022. Disponible sur https://blog.vidizmo.com/video-on-demand-vod-definition-history-and-
---
September 9, 2022 by
VOD platform
video on demand
VOD