Which DAM platform should you choose to host your company's digital assets ?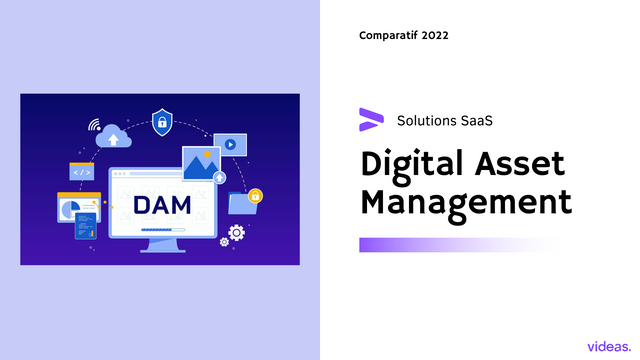 What is Digital Asset Management (DAM) ?
A Digital Asset Management (DAM) is an ergonomic tool to manage and to organize your digital assets (videos, photos, sounds). It is handy for marketing teams and communication teams. The Digital Asset Management enables you to save on your time, especially in the searching of your contents.
DAM is often used for companies. Thus, several platforms suggest many solutions for managing and organizing your digital files with different features.
You can discover more about the DAM in our previous article by clicking here
This is the reason why you will find in this article, a comparison of platforms about digital asset management.
Sum up of the article :
Which DAM platform to choose for my company ?
1. Bynder
Often used by Intermediate Holding Companies, huge companies and SME, as well as companies from second and third sector, Bynder suggests an intuitive solution for the management of digital assets.
2. Videas
Collaborative and private platform, Videas suggests an intuitive solution for companies, and professionals to efficiently manage a huge quantity of videos, images, sounds. without any limits of weight nor duration. It supports a multitude of formats, and suggests advanced features for the management of videos (video player, etc…).
3. Wedia
Wedia suggests 4 solutions Saas for the management of projects and contents. One of their modules enables the management of digital resources.
What is the best DAM solution ?
1. Oodrive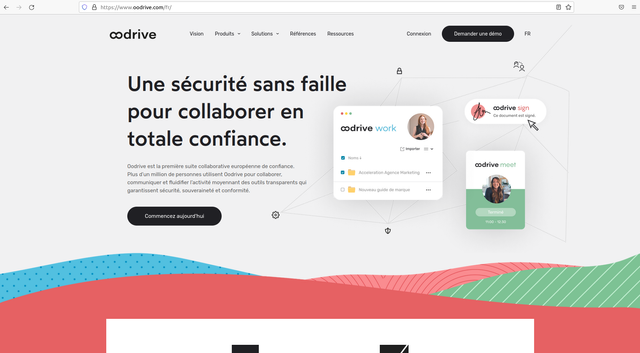 Oodrive is an online software solution that enables you to store, to manage, and to organize your digital files. It is specially designed for companies. This solution is ideal for stocking a huge volume of digitized documents.
Features
Personalized and automatic "workflows" system.

Identification of expired rights.

The classification of automatized content.

A reinforced protection (ENISA, EUCS, ANSSI, SecNumCloud).

Back end included.

Microsoft 365 included.
2. Wedia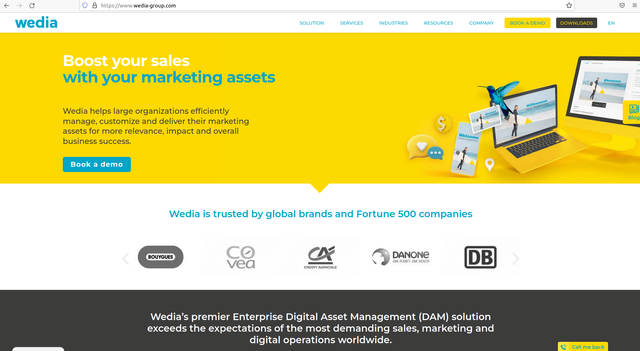 Wedia is an online Digital Asset Management solution. It will simplify especially the task of marketors and informaticians.
Features
Possibility to store 3D files, virtual reality and many more with photos, videos etc…

"Content picker" : That is a native connection which enables you to include office tools such as Adobe, Photoshop, etc…

Unique authentification (SSO).

Back office system.

DAM synchronization with your ERP or PIM.

A strategic roadmap.
3. Videas
<post-image src='content/blog/comparatif-dam-2022/Videas.png' alt='Screenshot of Videas' webpage' legend='Screenshot of Videas webpage'>
Videas is a platform specially designed for companies' management content. If you also have several videos to stock and to broadcast, this solution is made for you.
Features
You are not limited in terms of size, duration or formats. You can send videos for more than 60 Go or more than 10 hours.

An ergonomic and simplified interface.

An API.

Sharing features with confidentiality options (private links, embedding on a website).

Access rights management system.

Advanced browser with filters.

You have the possibility to create a video broadcasting platform (internal web tv, product presentation, etc…).

Connection SSO.

HTML5 video player responsive and in white label.

Personalized to the image of your company.
4. Bynder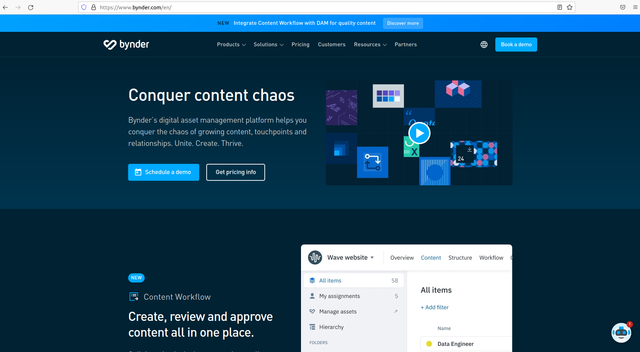 Bynder is an innovative tool that enables companies to easily manage and stock a huge volume of digital assets in a centralized, collaborative, and private interface.
Here are its features :
Features
A DAM personalized in adequation with the graphic charter of your company.

In the DAM, you have the possibility to leave annotations and comments for your collaborators.

Embedding of back end.

Unique authentication (SSO).

Embedding of DAT (Dynamic Asset Transformation) in the DAM.

Searching for files by the use of AI (artificial intelligence).
5. Kaltura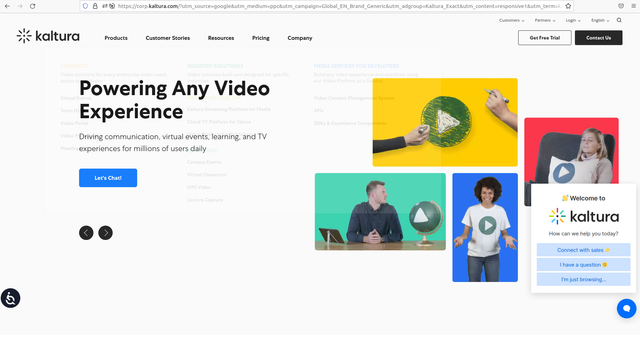 Kaltura is another management and organizational solution online of digital assets. Moreover, it suggests live video solutions and video-on-demand for companies.
Features
An HTML5 video player.

Subtitles and automatic framings.

Access management.

Loop videos.
Why should you use a Digital Asset Management ?
DAM platforms are specially designed for companies and professionals.
Bynder is an ideal solution for collaborating with your collaborators, especially with the possibility to add annotations and comments inside your DAM.
Oodrive is handy if you wish to have an automatic classification of your digital files. If you want to embed 3D files with your other digital documents, Wedia will suit your needs.
Kaltura is a good tool for automatic framing, a useful feature for your company.
Videas will make the difference, if you daily use video in your company thanks to its features especially designed for video hosting and video broadcasting.
Sources :
Oodrive : https://www.oodrive.com/
Wedia : https://www.wedia-group.com/
Bynder : https://www.bynder.com/
Kaltura : https://corp.kaltura.com/
Videas : https://videas.fr/
---
July 29, 2022 by Safia Azzi
dam
digital asset management
digital video management enterprise