9 videos trends of 2022 for your company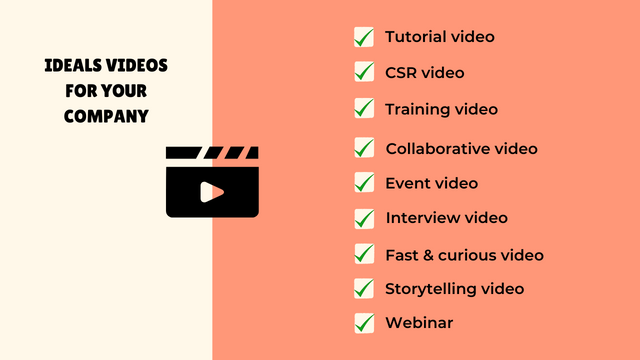 We all know that video is an efficient way to sell a product or to better communicate with people. This marketing tool is both communicational and entertaining. People who are watching videos have more chances to memorize information than reading a long email
This is the case with the company. In 2022, they will produce more and more videos. Whether it is to enhance the image of their brand or internal communication with their collaborators.
Do you know about video trends for your company ? The answer is in this article.
1. Tutorial Video
A tutorial video is not only made for people wanting to follow up a tutorial in order to install a software on a computer or to try a new haircut. It is also dedicated to companies. In fact, this type of video is useful to explain a tutorial about the use of your web site. To sum it up, it is your FAQ in video format.
This will highly facilitate the research of your customers and your collaborators on a new functionality that they didn't know before.
Our advice :
To create this tutorial, you have to :
Establish the budget, the target, the decor and the materials needed to create your video

Writing a script

Recording a voice over (if you do not wish to add a voice over, it is better to replace it with a background music

Realizing a video editing
2. CSR video
CSR videos can make your collaborators and customers aware of a specific subject. For instance, you can make a presentation about the cause that your company defends, such as inequalities, salaries or even the enhancement of durable development.
That is to say your collaborators can participate in your RSE video. For instance, they can talk about your engaging policy or another engaging cause. What's more, you will be able to stand out even more compared to your competitors, which will enable your customers to choose your company rather than another one.
Our advice : We suggest you create a 2-3 minutes video.
3. Training video
To train your collaborators, no such thing as using the training video. It is a short format and especially appealing ! It enables them to maintain information quicker and especially in an entertaining and playful way.
Thanks to the video format, your collaborators will want to learn your classes and will be trained in an original way.
Our advice : We advise you to upload your videos on a video platform such as Videas. You have the possibility to share your training videos in a private, collaborative space and personalized to the image of your company. You can also follow the progress of each collaborator.
4. Collaborative video
For your company, collaborative video is important. This type of video can be related to a subject that gathers your collaborators. Thus, they can participate in a video by adding, editing and also by modifying or even by creating a mix of the video. This will enhance the internal communication of your company, but also to strengthen the cohesion of your teamwork.
Our advice : If you want to share your collaborative videos with different teams, Videas enable you to share your videos thanks to a private sharing link.
And above all, your sharing page is customizable to your tastes !
5. Event video
You've just scheduled an event into your company, but you want to disseminate this information in an attractive way. The video event is made for you. It consists in the presentation of an event introduced by yourself.
Nowadays, it is true that sending an invitation by email is less interactive than a video. For instance, your collaborators can't read their emails or can't receive them correctly.
Our advice : We suggest you create a 5 minute video, but you are free to choose the maximum length of your video.
Your video has to have the following elements :
The name of the event

The name of the place

The date

The address

Images or video footages (for instance, showing in few seconds the place of the event)
By broadcasting your event video on our platform, your collaborators will have permanent access to these videos and their reruns, especially in a private and collaborative space.
6. Video interview
The video interview allows you to improve your internal communication as well as your external communication.
Internally, you can interview your collaborators. Their feelings within your company, the presentation of their workstation, their friendly relationship with their colleagues, etc…
Externally, we invite you to interview your customers to obtain their opinions. Putting online your customers' reviews in video format encourages your new prospects to trust you.
Our advice : You only need a lapel microphone worn by a person who is interviewed and a media support such as a mobile phone or a camera to shoot your video.
You are free to choose the decor of your choice, but we advise you to choose an environment that introduces the company's premises, such as meeting rooms or co-working space.
7. The fast & curious video
You have already watched videos from Konbini and you wish to use this same video format for your company ?
We think that it is ideal so that you can learn more about your collaborators. In this type of video :
There is an interviewer and a collaborator

Questions are not too long, such as "Internal or external communication"

The video is relatively short, which will enable collaborators to watch your video at
any time of the day
Easy questions to memorize
Thus, your collaborators will have to get to know more about your opinions, extracurricular activities of their colleagues and many more.
Our advice : Opt for a 1 minute video, and above all don't hesitate to add a lot of transition effects, colors and stickers for a 100 % creative video !
8. Storytelling video
We all know about introducing videos such as "Draw my life" from our favorite YouTubers.
On the contrary, storytelling videos consist of making the presentation of your company.
To give you an idea, you can introduce your company's premises as well as your collaborators by turning it into a movie with such a precise script. For example, turning your collaborators into the characters of your company's history.
Your audience will enjoy watching your video, while memorizing more efficiently the information that you want to disclose.
Our advice : To create your video as a Hollywood trailer, we invite you to create a 60 second video, and especially with a lot of special effects ! A very original idea !
9. Webinar
Since 2020, webinars have seen a major evolution on the internet. Pandemic led companies to organize and to broadcast their meetings or seminars online. In 2022, even though we are not (for the moment) quarantined, webinars are still trendy.
The goal is to organize an event online on a topic that we would like to introduce. It can be for your customers or for your collaborators. Screens sharing is very used in this type of video to share powerpoints, documents and many more.
Thus, there is an intellectual and interactive exchange between collaborators or customers and the host of this webinar.
Our advice : Webinars are most often broadcasted on a Web TV. With Videas, you will have the possibility to create a corporate Web TV, so that you can broadcast all of your videos to your collaborators !
To conclude, video is an entertaining and engaging tool for your company.
Among these videos, which ones do you enjoy the most ?
If you want to know more about those type of videos to use for your B2B communication strategy, don't hesitate to read this article
---
June 17, 2022 by
videos trends
videos company