6 reasons to create my online video training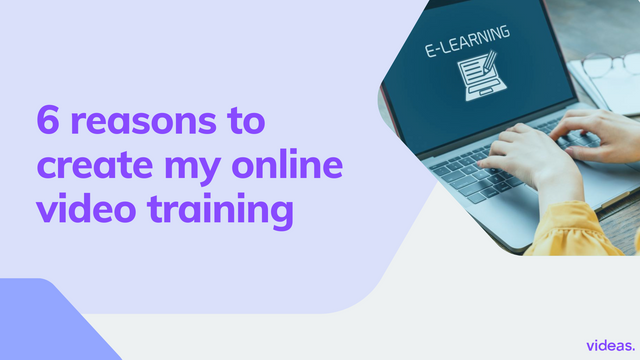 You are looking for a way to create your online video training : an e-learning platform for your learners. In addition to your face-to-face classes, launching your online video training business is a great way to generate additional income.
The worldwide market of online classes is in full swing. According to a study from Foreign Market Insights, the worldwide online classes market will increase from 16.7% between 2022 and 2030.
You would like to know more about the advantages of videos for your online training ?
The answers to these questions will be found in this article !
Video, an efficient training support for your learners
Here's the advantages of video for your online training :
1. Facilitate the memorization of your students
Nowadays, students are more and more passionate about online video classes with the new technology era. In fact, videos are composed of images and sounds. By listening to your voice synchronized with images explaining your course, memorization will be easier and your learners will enjoy making a learning improvement.
To give you an idea of your video classes, here's an example :
What's more, video is a touchy subject, and there are chances for it to be more appreciated by your learners. For instance, according to Forbes, people only retain 95% of a message that appears on a video, whereas only 10% memorize information through a text (2).
Video is the original learning support that your learners want to need to assimilate your training.
2. A suitable format for all supports
The advantages of video are that it is an adaptable format for all kinds of media supports : laptop, mobile phone, and tablet.
This can be advantageous for your learners that wish to watch your online training videos on their mobile phone when they are for instance in public transport. Other students will prefer to watch your videos on their laptop by night and some on their tablet when they are resting in their garden.
In all cases, video is certainly the most suitable and available format for sharing your knowledge with your learners.
3. Video, an ideal flexibility for your learners
Video rhymes with flexibility ! It is a format that is also suitable for the schedule of your students.
Maybe some of your learners will not be able to come to your face-to-face classes for personal reasons (taking care of your child, working hours not compatible with your schedule class etc…).
What's more, your learners will watch your online videos classes whenever they want, and they will watch and re-watch your videos several times for better understanding of your online classes, and thus training themselves without any stress.
4. An interactive efficient method with your audience
Communication with your students is important so that you can get to know their opinion about your videos or asking important questions related to your online training.
Even if mails are still the most used option for communicating, and answering the questions of your students, video is an efficient interactive solution.
To give you an idea, our private hosting video platform offers you an interactive system for your videos : students can interact with you by leaving comments on your video and reacting to it through "likes". You can also reply to comments, which will create a communication link between you and your students.
You have the possibility to communicate with your students by leaving them a video message. For instance, to announce a webinar that you want to organize online, so that you can introduce a worldwide known speaker linked with the domain of your class such as an author, a footballer or a head cook etc…
5. Online videos are time saving
Writing your classes thanks to pdf or numerical files can quickly become a huge quantity of work. We advise you to opt for video format, because it is simple and quick to create.
What's more, you will only have to record yourself, or adding your voice onto our powerpoint (if you prefer, recording your class through a powerpoint format), which won't take you many times.
You won't also have to come to your classes, which will give you the possibility to save on time. You only need your network connection to post your online training videos.
6. Video enables you to offer a complementary salary
It is by creating online courses that you will have the opportunity to multiply your chances to increase the numbers of customers. In fact, you can generate a complementary salary to those that you already have through your face-to-face classes.
To do so, you have to establish an online payment system. On our platform, you can sell videos in different ways : Buying / Renting / Selling. You can easily add this option by creating an online platform on VIdeas.
To conclude, video has many advantages : an efficient memorization of your classes for your learners, a format that adapts itself to all kinds of media support, and to your learners' schedule. The performance of your students will be enhanced because they have the possibility to work independently. Video is an original working method that provides to your learners an attractive support and enables you to have an interesting complementary salary.
Videas helps you set up your online training platform.

If you want to get to know more about the steps you have to follow for creating your online video training, click here
Sources :
Massive Open Online Course Market (2022-2030). (s.d). Future Market Insights. https://www.futuremarketinsights.com/reports/massive-open-online-course-mooc-market

Lyndsi Stafford. (2017, july 13). "How To Incorporate Video Into Your Social Media Strategy".https://www.forbes.com/sites/yec/2017/07/13/how-to-incorporate-video-into-your-social-media-strategy/?sh=30e9ff407f2e
---
September 2, 2022 by Safia Azzi
online video training
elearning
sell my videos online