How to set up a local Web TV for my territorial community ?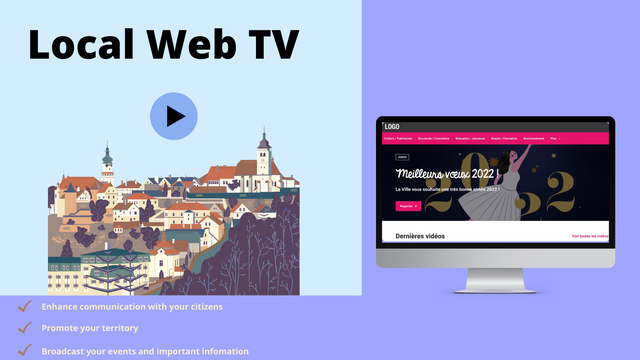 A local Web TV can be beneficial, in order to promote a good image of your territorial community.
It is a website where you can broadcast digital content of your city.
To promote the image of your municipality, there is nothing such as broadcasting your videos / images, and to share with your audience a space entirely dedicated to your citizens and tourists.
A Web TV enables a large number of advantages : Enhancing communication with your citizens, promoting the image of your city, and other things.
Interested by this new innovative communication tool ?
Find out more about it in this article.
Turning a local Web TV into a mediation tool
Enhance the communication with your citizens
A local Web TV is a relational marketing tool very useful to set up a communication exchange with your citizens. To boost up your communication, we are suggesting that you make them participate in the creation of your Web TV. For instance, you can interview them to obtain their opinion about parks from your city, suggested activities to inhabitants, stores, restaurants, visitor centers, and many more.
However, don't forget that your citizens are the most important persons, because they belong to your city. In other words, it is by knowing that they appear in a video dedicated to the promotion of your city that your citizens will feel special. Thus, it will boost up their feeling of belonging to your municipality.
Inform your municipality about important information thanks to video
By using video on a Web TV, citizens will appreciate being informed more about your city. Video format is short, handy, and most of all engaging for your inhabitants, tourists. To give you an example, according to MaTvImmo, 80% of internet users prefer watching a video rather than reading a text(1). Thus, video is a good tool for your territorial community, because it enables you to attract new prospects, and to inform your citizens about something in a more entertaining way. What's more, it is broadcasted on an original media such as an online TV channel.
Promote your territorial community thanks to an online Web TV
In order to enhance your municipality, an online Web TV is ideal to promote your city.
We invite you to broadcast introducing videos. You can make a list of your public spaces, for instance your different parks, or even the use of your public transport. Your citizens will want to watch your videos, because they relay useful information to their daily life.
It can be handy both for citizens and tourists. In fact, by making a local TV channel, your tourists will not have to spend hours looking for information on several websites to know how to go for a walk in your city, what types of restaurants are available, and many other things.
The result ? On your videos' website, a bunch of videos gathering relevant information will make your internet users getting to know more about your city.
How to create one's local Web TV ?
Establish a project that defines your specific goals
To establish your Web TV, you have to :
Define your target : Only for your citizens ? Only for your tourists or for both ? These are questions that you have to ask yourself before creating your Web TV. They are important, because they will determine the creation of your Web TV.

You have to think about your budget beforehand. In fact, if you wish to create a TV channel permanently, you have to think about a very large budget.

You also have to think about the material that you will use, in order to design your videos. In line with the outcome that you want, the type of material can be changed. If you want a more professional outcome, then using your professional camera or choosing an agency will be fundamental. If you want a more natural look, for instance the use of a mobile phone might be a good idea to create short introductory videos.
In any case, we suggest you diversify the theme, and the staging of your videos. It will enable you to suggest different content to your audience, and to encourage them to regularly watch your videos.
Sustaining one's Web TV thanks to a specialized video platform
The advantage with a Web TV is that you are not limited in terms of videos. You are totally free to broadcast them in large quantities. As well as for the sharing of your videos, that is to say your citizens will be able to share your videos via a sharing link, without being limited.
Personalize the broadcast of your videos : An HTML5 video player in line with the image of your brand (logo, colors) is available. It respects RGPD's constraints, because it doesn't broadcast any ads nor cookies.

Customization of your TV channel : We will help you to grow your video platform. We elaborate it in accordance with your city's website. The Web TV will be able to be designed under the domain name of your choice.
Securing of your data : The entirety of your data is hosted exclusively in Europe, and under French laws.
A handy classification of your videos : To facilitate the searching, you can classify them by categories. It will be handy for your audience, because they will be able to find your video content in a single click.
More details on the features of a video hosting platform here
To sum up, a local Web TV is an innovative solution, not only to improve the communication with your citizens, but also it is a good way to put forward the image of your city.
New tourists will be able to visit your TV channel, and why not visit your city.
Source : MaTVimmo. (2019, August 8). Créer sa propre web tv. https://www.matvimmo.com/creer-sa-propre-webtv/
---
July 15, 2022 by Safia Azzi
web tv
local web tv