What is an Enterprise video platform (EVP) et its benefits ?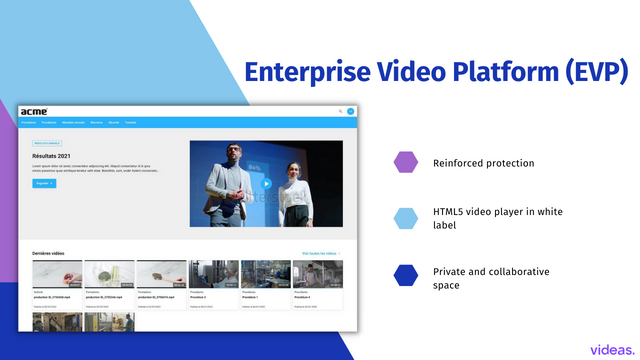 Videos are often used by companies to train / to inform collaborators or new employees, making the presentation of the company, interviewing your collaborators and many more.
Once your videos are created, it is better to host and broadcast them online and on an Enterprise video platform (EVP), specially dedicated to professionals.
It enables you to gather all of your productions in one unique place, guaranteeing their entirety and broadcast them easily to collaborators from the company.
In this article, find out its features.
What's the difference between an Enterprise VIdeo Platform (EVP) and an Online Video Platform (OVP) ?
Most of the time, we opt for public video hosting platforms, such as YouTube or Facebook to host and broadcast our videos online.
However, they can be an obstacle for companies. Here's the reasons why you should use a corporate video platform.
An Enterprise Video Platform (EVP) is entirely dedicated to professionals. Your audience is restricted. It is an ideal video platform if you want to share your private in-house videos with your collaborators. On the contrary, your audience will not be restricted on a public video hosting platform (OVP). For instance, your videos online will be mixed with the ones from other users, which doesn't look like a 100% corporate platform !

Your video player will not be customizable on public video platforms such as YouTube. Whereas on corporate video platforms, you have the possibility to add your logo on the video player. You can do it on Videas or Vimeo platforms.

Videos watched without any ads nor cookies ?
Nowadays, it is possible on EVP platforms. Your audience won't need to wait between 5 seconds to 3 minutes to view your videos, such as Dailymotion or YouTube. And it will avoid the risk of having videos from the rival.
What's more, if you opt for a specialized video platform, your data will not be collected, this is the case of our platform.
Your sharing links and videos are perfectly secure more on a private video platform than on an online video platform (ovp). To give you an idea, videos sharing links are protected through a password, whereas this functionality is not available on public platforms.
Our article about the comparative of video hosting platforms will help you determine which platform to choose
What are the advantages of a corporate video platform ?
Each company producing online video content wants to broadcast them both in private and collaborative space.
To do so, here's a list about the features of a video hosting platform for professionals.
Many are the companies that want to align their platform with their brand image.
On a corporate platform, you have the possibility to have :
An HTML5 video player in white label
You can add your logo on your video player for a more professional result that perfectly fits with your brand image.
It is important that your audience can view your videos in the best possible HD resolution. To do so, an HTML5 video player is available on a corporate video platform such as Videas, Vimeo or Wistia.
A personalized video platform
You are creative and you would like to to personalize your platform
You have the possibility to align your company's graphic charter on an Enterprise video platform. A "Private YouTube" that fits you !
Ideal to host a big quantity of videos. It also allows you to free up the storage space of your computer.
What's more, you can navigate on the video library from a simple way, and of course thanks to many features:
To classify

To index

To annotate

To rename

To look for videos

To create playlists

A customizable sharing page
When we share a video on YouTube, we can only copy a sharing link to share them on your social media, by email or by text message.
On the contrary, corporate platforms allow you to highlight your originality. For instance, we give you the possibility to personalize your sharing page. For a professional result, you can add your logo and personalize the colors.
Your privacy is respected in different ways, on a corporate video platform.
Your videos and your sharing links are protected through passwords.

In order for you to easily and quickly log in, a private platform can align with your SSO system.

For more privacy, your audience is restricted. Thus, you can manage access rights by choosing the persons who can watch your videos.

What's cool ? At Videas, your videos are hosted in Europe and under the authority of european laws to guarantee a permanent access to data.

A collaborative space
Ideal for companies, EVP platforms enable you to pool your videos in a video library, as it is the case of Videas. If you want to pool your videos with your collaborators, this platform is made for you !
Furthermore, you can share your in-house videos with your collaborators thanks to a personalized corporate Web TV, such as we offer it on our private video platform.
To conclude, we advise you to opt for the Enterprise Video Platform (EVP). It is ideal for companies, because it enables you to host, to broadcast and to share your video content online with your collaborators, while respecting your privacy needs.
---
June 24, 2022 by Safia Azzi
enterprise video platform
EVP
hosting video for company